The Future Is Yours. Picture it. Save for it. Share it.
The month of April is Youth Month and we believe in the value of sharing our financial knowledge with all of our members, young and old.
For kids and teens we encourage them to dream big about what their life holds and where they will go. And it all starts with being wise with money. Starting early gives them a better view of how to manage their money and plan and achieve their financial dreams.
Independent Advantage is our financial literacy program to teach teens how to manage their money and plan for their futures. If you have or know a teen who would be interested, sign them up today.
"An investment in knowledge always pays the best interest." - Benjamin Franklin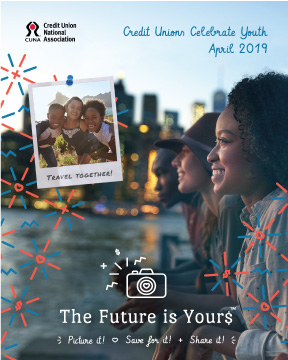 Is your teen money smart?
The Independent Advantage program is a series of financial classes available to teens between the ages of 15 - 18. In a relaxed and fun environment, students learn about checking accounts, electronic account access, credit, and budgeting.
When students complete the class they receive:
Checking account with free checks
MasterCard debit card
Electronic access to their accounts
Opportunity to apply for a low-limit Credit Card

Classes are free … students only need to have an open savings account with the Credit Union. Get more info and sign up here.